Finding a unique name for your guinea pig totally depends upon you that which kind of name you want your pet to have. Some people call their guinea pigs with the names related to their favorite things like chippy, cooky, mat etc while other people use to call their guinea pigs with names associated with colors and places like whity, blacky, blue, Sydney, Georgia etc.
Now comes to the point how to find unique names for your guinea pigs. You can choose the name related to your interests, likes, dislikes and other factors like color of your guinea pig, its activities, its nature etc. Apart from these things, you can also search unique guinea pig names on internet. Just like human beings, guinea pigs also need a unique identity and selecting a unique, creative and unique name is the best way to give them identity.
When the things come to "unique", it has a subjective meaning. To whom you take as unique can be different for others because everyone have their own perspective. Now let's talk about generating ideas for getting unique guinea pig names. Here are some of the tips that you might find useful.
• Try to think about the things that you like and love the most. What are your hobbies in which you love to spend your leisure time? Are you a music lover of a particular type or like to listen to all music genres? Do you have any specific nick names for your best friends? This can be a great inspiration for choosing good name for your guinea pig.
• You can go with the geography. Is there any favorite place where you like to travel in your holidays or enjoy your time with your friends and family? Do you have any memorable incident in a particular place of world? These things might go well for choosing a unique name for your guinea pig.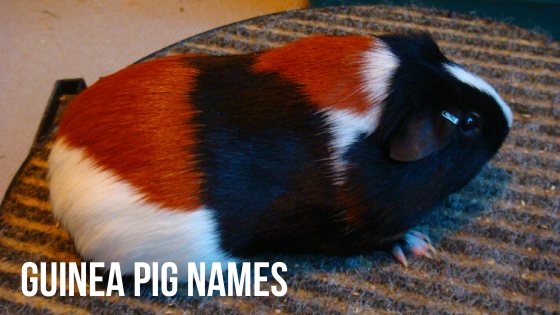 • Pay attention while watching TV, movies, cartoons and reading books, novels or playing video games because you can get a unique idea for guinea pig name from them.
• Look at the current market trends like what is more popular and trendier. This can be a way of inspiration for you to get a unique and trendy name for your lovely guinea pig.
• You can also keep in mind your favorite games like cricket, football, tennis etc and can get names from your favorite game players.
• Do you like any TV or Radio celebrity or like their pets? If the answer is yes, you can copy their names for your pets.
Above mentioned are some of the useful ways to look for unique names for guinea pigs. You can also explore internet for more ways. You can discuss with your friends and family members and get ideas from them. Every person has different thoughts so they can be helpful for you in telling unique names for your guinea pigs. Sharing the thoughts with others is a great way to explore things and get inspiration from others so also try this method; it might go useful in your case.